There is no shortage of Warren Buffett quotes on successful investing. The one that never fails to reassure me: "Be fearful when others are greedy and greedy when others are fearful."
If one of the greatest investors on the planet strongly suggests that one become risk averse when the herd is throwing caution at the proverbial wind, it makes sense to identify the extent of ill-advised risk taking. For example, the CBOE S&P 500 VIX Volatility index (a.k.a "fear gauge") closed out September at its lowest level on record, suggesting that there is very little regard for the possibility of a precipitous stock decline.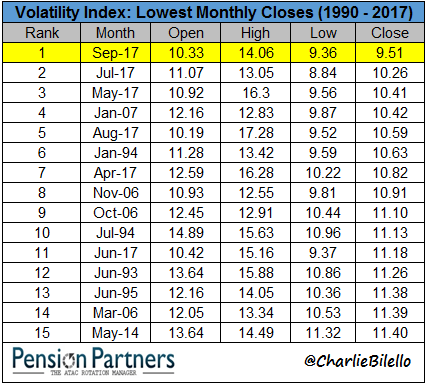 Other fear-greed measures are equally disquieting. In spite of a flawless run-up since the November election, where stocks have catapulted higher for 11 consecutive months, 65 percent of Americans believe that stocks will rise over the next 12 months. This particular percentage of optimism (65%) represents a record level of confidence in equities.